Testimonials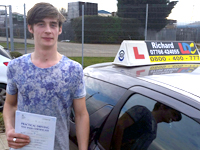 William - Thornhaugh
I took my driving lessons with Richard. He is funny and easy to talk to, after a few short months of lessons he had me ready for my test. He was very flexible with fitting lessons in around my work hours. He made sure I was prepared for any eventuality whilst driving in all conditions.
Will had had a few lessons before we started, but we started at the begin just to ensure the basics were fully understood and quickly moved on covering all aspects of driving including the manoeuvres which we completed easily. Will works all hours in a hotel so this will make it a lot easier for all.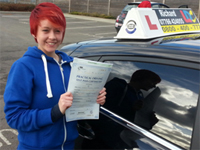 Shanice - Wood Walton
Passed First Time 4 minors
I'd had other instructors but didn't seem to be progressing, but with only 20 hours with Richard I felt confident and able to pass my time first time with only 4 minors.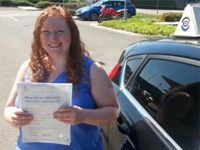 Lucy - Exton
I cannot recommend Richard highly enough as a driving instructor. Richard is very experienced, he is calm, friendly, reliable and able to explain all aspects of driving in a way that is easy to understand and perform.
I had taken lessons and tests in the past and I was quite nervous about getting back into driving lessons after a 3 year break, but Richard put me completely at ease.
I also received an LDC Driving Skills Workbook to read through. I found it contained all information you need to know from start to finish about driving, performing manoeuvres and what the examiner will expect, including all the 'Show me/Tell me' questions and answers. It was very easy to follow and understand.
After a 2 hour driving assessment with Richard I decided on a Midway Pass course which was 20 hours of intensive in-car tuition where I was taught everything I needed to know to drive and manoeuvre the car safely and competently and guided me through what to expect on my test.
I am very pleased to say I passed with 5 minors thanks to Richard's expertise! Thank you Richard!
We completed the assessment drive and from that we decided that we would book the practical driving test and then arrange the lessons prior to that date doing a short intensive course. The results speak for themselves. Well done Lucy.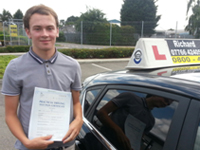 Nicholas - Ketton
I learnt to drive with Richard by doing a one week intensive course, it was one of the best choices I ever made.
I had very little experience of driving before the course but 30 hours in a car with Richard was more than enough to allow me to pass first time. Richard is a very good instructor who plans the lessons to make the most of the time in the car.
He is very patient and never loses his temper and if you're lucky he will even buy you lunch.
The LDC workbook and DVD were very helpful for learning the basics before the lessons and made the lessons much easier. Thank you for helping me pass first time.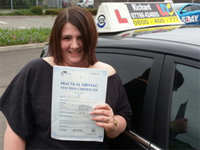 Emma - Empingham
Passed First Time - 2 driving faults
Richard is a highly skilled instructor and I am pleased I asked him to teach me to drive. After starting up with driving and then stopping and driving a 4x4 round the farm I had picked up a few bad habits but with Richard I got there.
We had some good laughs and crazy times but he was also professional and patient and taught me everything I didn't know about driving and the MIRRORS.
He always has a positive calm attitude and makes you feel relax from day one. Richard is a great instructor and I would recommend him to anyone who is taking up driving. Richard is one in a million and thank you for getting me though my test I am amazed I passed first time with only 2 minors and it's down to you and your lessons.
I also did pass plus with Richard and that was again a great day. We had another good laugh and great morning out but again I learnt a great deal with Richard.
I highly recommend that everyone does pass plus. THANK YOU Richard.
We did have a good time while driving. I don't think Emma realised that she was also being taught how to drive at the same time because everything was so relaxed.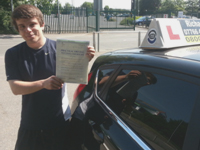 Fred - Huntingdon
I passed first time with Richard, he's the best instructor I've had. He puts you at ease and explains everything in detail, all the manoeuvres that I was afraid of became easy to perform. Richard spots all... of your mistakes and tells you about them straight away so you can reflect and improve immediately. I highly recommend him if you want to pass! Thanks Richard!
Fred took his test in Cambridge, which he had never driven around before. He went for the 20 hour Midway Pass course and it worked well as he got through with a really good drive with only three minors. Well do mate. Keep safe.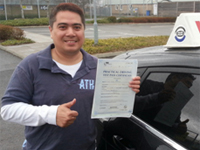 Al - Stamford
My cousin recommended Richard to me after he passed first time with him and I'm glad that he did as I also passed first time with Richard. Great instructor, just what Ed said about him and I now can drive my car that's been sitting on my drive. Many thanks Richard.
I'm glad to be of help and pleased that you got through first time. Well done.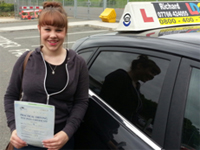 Rebecca - Corby
Learning to drive with Richard was inspiring.
He is a brilliant instructor who makes you feel at ease from the first lesson. I would highly recommend him to anyone who wishes to learn to drive.
I now feel confident on the road all thanks to having an incredible driving instructor :) Thanks Richard!!!
It was totally my pleasure Bexx. Well done passing your test with a really good drive. Bexx has also now completed the Pass Plus training which she said was really useful.
Take it easy and keep safe in your nice car.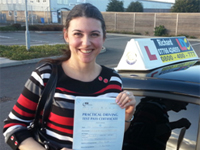 Desi - Castor
I am so happy that I am finally a driver! At 36, I was embarrassed that I left this so late and honestly was not confident at all. I was so lucky to have found the best instructor - I owe my success to the skills and immense patience of Richard Anker!
He was recommended to me by our babisitter, who was only 17 and already passed her test successfully with him.
Richard is also local and I found that very convinient too. But the best thing was that Richard made me feel at ease from the very beginning. He was always patient and friendly, and explained everything to me clearly and as many times as I needed. I am not a 'natural' driver, so it was more difficult for me to relax and get everything right - but Richard guided me patiently in the right direction and tailored the lessons to my individual pace and level of learning.
I cannot be happier that I will be able to drive my family around, go to the supermarket and also - get out of Castor on a Sunday, when there is no bus!:))
Thank you so much, Richard - you made me a free and confident person!
It was my pleasure, I enjoyed every lesson. So now the job market is a lot bigger for you. Good luck.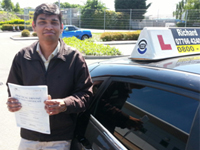 Viswanathan - Peterborough
Passed first time!!!
I went with Richard after reading his testimonials and I'm so pleased that I did as I passed first time and now progress at work as I was needed to travel between Peterborough and Coventry. Many thanks Richard.
Vis had been driving before and just needed a little refresher before taking his test, so he opted for the Test Booster course and it worked.
Well done. See you soon for the Pass Plus training.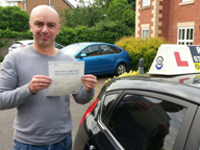 Chris - Market Harborough
Was on the verge of giving up at the age of 33 after bad experiences with other instructors but decided to give it one last go and thankfully passed this week.
Lessons with Richard were relaxed and enjoyable and I would highly recommend him to anyone thinking about taking lessons, regardless of age.
If he can get me through he can get anyone through, top man!!
Chris just needed the to have confidence in his own abilities. We went through everything step by step explaining when any errors were made how they happened and how to to correct and prevent it from happening again. Chris followed this all the way through his teaching and it worked well as he now has completed the hardest thing he has every done, his words.
Well done, keep safe and good luck in the new career that you can now follow.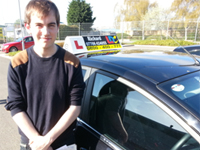 Edward - Stamford
Passed first time!
Richard got me through my test first time after my parents had taught me the basics.
He explained to me what I needed to do really clearly throughout the few lessons that I had with him. But without this I wouldn't be now able to drive my own car. Many thanks Richard.
I met Edward's parents in a car park while taking a break. They asked if I would complete Edward's driver training following the time they had taken with him. After around 10 hours of tutition Edward had passed his test first time with only 2 minors.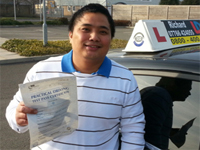 Ed - Stamford
It can be mind-boggling choosing & finding a COMPETENT driving instructor amongst the thousands of adverts. But i am lucky, or rather blessed, to have enrolled with Richard at LDC.
The friendly manner & sincere willingness to help achieve every driving student's goal of passing the test,is evident on the first lesson. His calm,reassuring, & positive attitude boosts one's confidence behind the wheels. He explains manoeuvers & techniques patiently & in a simple manner which makes it easy to mentally sink in. I am so thrilled I have passed my test.
All thanks to Richard! Highly commendable! Excellent instructor! His Pass Plus course had reinforced my knowledge & confidence driving in different roads, weather & driving conditions! A 'must-take'! See you again soon, Richard, as I will be enrolling my daughter for driving lessons too!
Again, a million thanks, Richard!
Gratefulness beyond words from me & my family Richard.
Well what can I say, thanks Ed and I look forward to teaching your daugther. Well done and I know what it means to you. Best regards.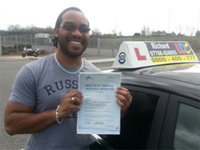 Trevor - Corby
Richard is a great instructor. I only had 29hrs of lessons and passed first time with only 6 minors. The way Richard teaches is very good and he makes it easy.
I found that the LDC workbook helped me so much. It explained everything you need to know about how to drive. Mixing that with Richard's expertise then you're on your way to driving in no time.
I would recommend Richard to everyone.
Trevor needed a driving licence to progress further at work so the pressure was on. Trevor opted for weekly lessons of 2 hour duration. This method gave Trevor time for his work, college course and reading the workbook which helped the learning process. We covered everything we needed to within 29 hours and Trevor got through his test first time. Well done Trevor.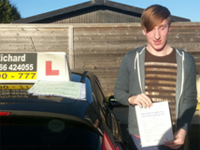 Jordon - Castor
Passed First Time with 6 minors thanks to Richard and I only had 26 hours of tuition.
Jordon picked everything up straight away. I only needed to explain things the once and he'd got it. A natural.
Well done Jordon.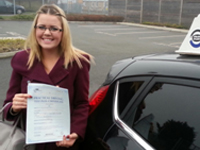 Katy - Peterborough
My learning experience with Richard was everything I could have hoped for, being my first and only instructor!
From lesson one, Richard was patient and calm with me, making me feel at ease and confident with driving. I then went on to do an 18 hour intensive course - three 6 hour days, with which he always fitted his lessons round my hectic working hours and trips away!
When struggling with my theory, Richard was always eager to help out, offering me guidance and giving me links so I can practice at home, as well as testing me on things I was unsure on throughout our lessons.
I went on pass both my theory and driving test first time after 38 hours of lessons. I would truly recommend Richard to anyone of any age or ability. I loved it!!
Katy was really keen to learn to drive and had the workbook with her all the time and would read it at every opportunity, I'm sure this helped getting through both tests first time.
We both looked forward to the lessons as Katy had a good time while learning.
Well done Katy, be safe.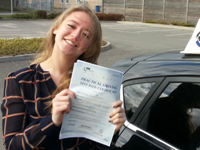 Annabel - Castor
I felt the test was less nerve racking than I thought it was going to be, with the support of Richard I feel comfortable and safe on the road and able to pass my driving test.
I would recommend him to anyone wishing to learn to drive.
Well done Annabel. A good drive with a good pass at the end if it.
Enjoy your car!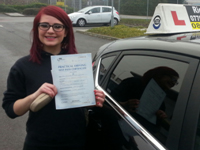 Katie - Orton Goldhay
I couldn't have asked for a better driving instructor!
I enjoyed all of our lessons together, we could have a joke and a laugh but when it came down to it Richard was an amazing instructor and I am now a good driver thanks to him :-)
I managed to cram a lot of hours into a small amount of time and he always managed to fit my lessons in, even with my inconvenient work hours and forever changing days off!
Richard is very patient, reliable, comforting and knowledgeable! I have recommended Richard to all my friends and I can't thank him enough for teaching me a skill I will use for the rest of my life!
It was a real pleasure to teach Katie, like she said we had a good time. I believe that the pupil should enjoy the lessons and feel that they learn better if they enjoy it.
Thanks for the recommendations and enjoy your freedom.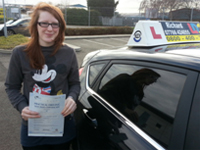 Amy - Dogsthorpe
I would highly recommend Richard as an instructor. He's a brillant instructor and made me feel at ease throughout our lessons. Thannnnkss.
It took Amy a couple of attempts to pass her driving test, but once she got her nerves under control she passed with flying colours. Well done Amy.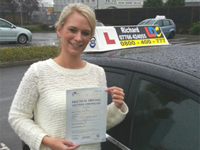 Hannah - Oakham
Just passed my driving test with only 4 minors, many thanks to Richard, I'm over the moon.
He is an amazing instructor, he truly makes you feel calm and comfortable.
I opted for the semi intensive course, 30 hours over three weeks. I had zero experience but Richard got me up to scratch.
The LDC workbook was a fantastic help, it prepares you for what to expect and enables you to revise what you have done to make sure it all sinks in.
I would and will recommend Richard to everyone, he's a true credit to LDC.
Oakham is a good distance from Peterborough where Hannah took her test, so we agreed to do longer lessons which gave Hannah more time in the area to prepare for the test, but we had to arrange the lessons around Hannah's work and child care.
It was a really great drive comfortable drive on the test.
Look forward to seeing you again for the Pass Plus. Safe driving.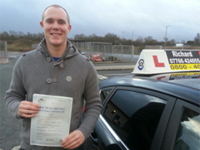 David - Corby
Learning to drive with Rich has been a complete pleasure. I had 5 or 6 lesson prior to rich and feel I learnt more in our first lesson than I did in them initial 6!
Rich is easy to get on with and in general a very knowledgeable man which filters through to his lessons, he certainly knows his stuff.
Rich living a fair bit away didn't effect our lessons in any way, always on time and always well prepared. I couldn't ask for more.
I've passed my test and become a confident safe driver which is important! would highly recommend.
Thanks again Rich, all the best.
We had a good time learning to drive. David passed his test with only 3 minors after taking 35 hours of tutition. He is no longer having to cycle to work in the rain or snow!
Well done David. Safe driving!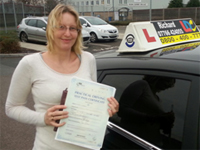 Victoria - Bourne
I chose Richard as my instructor after a friend had passed with him, my friend was a confident and competent driver and was full of praise for Richard.
My lessons were set to my pace and Richard taught me the manoeuvres in a way that made sense and didn't over complicate them.
I enjoyed my lessons and the learning experience, Richard is a great teacher who focuses on your positives and helps to improve the negatives without any fuss or making you feel bad.
I'm glad I have passed my test, my only regret is that I didn't hear of Richard sooner!
Victoria passed her test after 28 hours of tuition with only 3 minors, a great result. I really enjoyed the lessons, as I do with all my students, The pass couldn't come at a better time with a baby on the way.
Well done and I'll see you soon for the Pass Plus.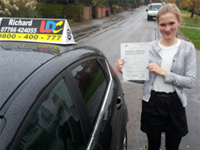 Rosa - Market Harborough
Passed 1st time!
Richard was a very friendly, patient and helpful driving instructor. If there was anything I didn't understand or I was nervous about he explained it to me clearly and I always looked forward to my driving lessons. I made good progress in each lesson and this meant that by the time of my test I was confident in my driving and I passed first time!
Rosa opted for the 30 hours intensive course but we broke it down into two sections to suit Rosa's schooling, ice skating and holidays. We arranged 20 hours to start with and during this time I helped with the theory test as well.
During the break Rosa passed her theory test first time so when she came back we booked her practical test and arranged the remaining lessons around the date for the test and he passed first time with a really good drive.
Well done Rosa, safe driving.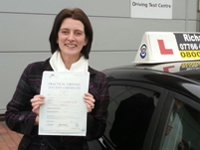 Rachal - Market Deeping
Would like to thank Richard for everything this week, I'm such nervous person and suffer with anxiety, but he was brilliant he knew I was nervous and calmed me down every time.
We did 16 hours in one week and I passed first time with him after failing 10 years ago. I did have another instructor but with my nerves being bad and thinking he was just doing it for the money I waited another year before going to Richard.
He is fantastic, I never thought I'd pass but here I am a day after passing my test, driving my family around, such a fantastic feeling and all thanks to Richard xx
This is why I enjoy this job some much. It can make so much difference to peoples lives. Rachal did really well and with only the 16 hours of tuition she ended up with only 4 minors on her test. That was really well done.
Look forward to seeing you soon for the Pass Plus training.
Safe driving Rachal.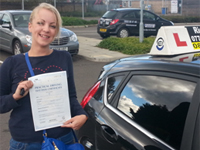 Emma - Alconbury
I was eager to learn and pass quickly so I chose the 1 week intensive course but changed my mind did it over 4 weeks because I was so nervous which was no problem at all. Richard made me feel at ease from the start. He kept reassuring me and telling me when I was making progress and guiding me in the right direction with things I wasn't so confident at!
Learning to drive with him was enjoyable and relaxing. He gave me a book on the first lesson, which explains everything so I could read up on each manoeuvre beforehand and get myself prepared for the test.
Brilliant instructor and I passed first time! I'd recommend him to anyone who is considering learning to drive.
When Emma contacted me she wanted to do the week intensive course, but then mentioned that she was nervous, so I suggested that we do an assessment drive and from that we put a plan together that suited Emma's requirements and it most of worked as she passed first time.
Well done and safe driving.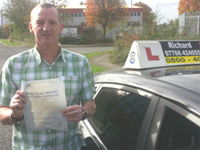 Stephen - Corby
I passed my test yesterday & its all thanks to Richard tbh...from the moment I started lessons with him he made me fell comfortable & was very patience with me. My lessons were always fun. We'd chat about anything & everything, trust me I know a good driving instructor when I see one. I had many over the yrs who were quite frankly useless, so I couldn't recommend Richard Anker more.
Thanks again Richard :)
This was Stephen's second attempt at his driving test. The first time was ten years ago. So when Stephen's situation changed he then wanted to learn to drive again. We talked about his requirements and we went for the 30 hour course, but instead doing it over a week or two, we arranged the lessons over two months because he was nervous. Things progressed really well and Stephen passed his test after 26 hours, so he had four hours of fees returned. He was really pleased to pass as he can return the lifts taken from his family and friends over the last number of years. I pass Stephen's house quite often, and his car is never in his drive!!!
Well done Stephen, passing with only 4 minors.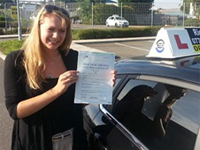 Jaime - Baston
Passed First Time With Richard.
I have always been a nervous driver and so when I moved back to the area, looking for a driving instructor was a big process for me. Upon receiving 13 lessons with a previous instructor and getting nowhere I was certain I would never pass.
However, I have now passed and 1st time too. Every time I had a lesson with Richard I would feel more and more confident. I've gone from a stalling mess to being on the road!!
I would recommend Richard to anyone as no matter how many mistakes you make or how nervous you are, he will put you at ease and give you confidence in something you probably never thought you would achieve. The book and the whole structure of the lessons are excellent and really take you through each step of your learning curve.
Thanks again Richard, for helping me achieve what I thought was the impossible!
Well what can I say. I really enjoyed each lesson and yes we did have a few problems with nerves, but we over came them and now Jaime has passed her test first time.
Well done Jaime.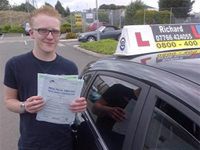 Daniel - Bourne
Passed first time with only 2 minors!!!
I booked the LDC Semi Intensive course with Richard and it was the best thing I've every done.
Richard delivered the workbook before we started so I could get a head start and it really helped reading the book first. His teaching methods really suited me. He explained things before we started a particular exercise and if I didn't understand he would talk it through again until I was happy. All of the instructions throughout the lessons really helped me. It worked as I can't believe that after 30 hours of tuition I have my driving licence.
Many thanks Richard, you were great!!
Daniel knew what he wanted. He booked the intensive course with me before his 17th birthday. He booked to take his theory test on his birthday, which he passed and we started the next day and structured the lessons to ensure that we completed the course to tie into his practical test day. Daniel took the driving test as just another lesson and it really worked as he passed with only 2 minors and a comment from the examiner saying that she enjoyed the drive.
Really well done Daniel.
Alice - Castor
I could not have asked for a more patient driving instructor, something that I particularly appreciated.
All elements of driving, particularly the manoeuvres, were explained in a simple and concise manner and were well supported by the learning materials, which LDC provided.
To be able to follow up the lesson in the workbook was very helpful. I cannot fault my learning experience.
Alice passed fist time with a really good drive. We had to time the driving lessons around Alice's schooling and all the after school activities, so the overall time taken to get Alice to test took a while, but still only completed around 30 hours of professional tuition.
So well done Alice and safe driving.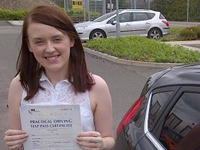 Georgia - Hampton
Richard came highly recommended to me by a friend who had also passed her test first time under his tuition. Balancing driving lessons with my Masters degree was quite tricky but Richard was extremely reliable and I always felt like I made good progress during each lesson. I wouldn't class myself as a natural driver and found some things difficult, but Richard was so patient and happy to go over anything I was struggling with until I got it - eventually it all clicked into place! He was friendly and calm and made learning to drive an enjoyable experience.
I'd recommend him to anybody thinking of learning to drive, especially to anyone who is feeling apprehensive as Richard puts you at ease. The car is comfortable and easy to use and Richard will make sure you are well prepared for both the theory and practical tests so you can drive safely and with confidence. I still can't believe I passed first time and am extra chuffed that I am the first in my family to do so!!
Many thanks again Richard, and I'll see you later this year when I book my Pass Plus.
As Georgia said, driving didn't come naturally to her, but with her commitment and dedication she passed her driving test first time with only four minors. Good drive, well done, you deserved it.
Look forward to seeing you again for your Pass Plus.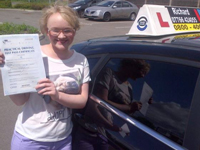 Leah - Guyhirn
Passed first time with LDC and Richard!
Richard was my third driving instructor as I was struggling to find someone who offered high quality training with a good learning environment.
I can honestly say he was brilliant as an instructor, he put me at ease, taught me to a high standard and made me laugh every time. It was fun and informative at the same time, plus the workbook was a useful guide alongside my lessons and it was always with me.
I passed first time and I honestly don't think I would of got there without Richard, I will be returning in the near future to continue learning with Pass Plus.
I would highly recommend him as he is a fantastic teacher with a nice, easy to drive car and the ability to put you at ease!
Leah came on board through recommendation after not being happy with her other instructors. After the first lesson we discussed the way forward and planned what we needed to do. Leah only needed a further 20 hours of tuition to pass her test first time.
Well done Leah, I'll see you again when we do the Pass Plus.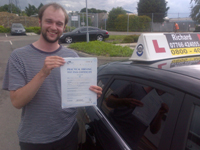 Robert - Orton Malbourne
I took a One-Week Pass course with Richard using the LDC system.
Richard is an excellent instructor. His calm, easy manner really helped me to stay relaxed in the car. He made everything very clear, and was happy to take things at my pace if I didn't understand something. He was very well organised, and had a plan for our lessons. He also took feedback from me on where I felt I needed improvement, and focused on that in the next lesson.
The LDC book and DVD were useful for learning before lessons, and freed up more valuable time in the car for driving. One week ago I barely knew one end of a car from the other, and now I have my licence - Thanks Richard!
Before we started Robert had read through the workbook and watch the DVD's that are provided with this course. Because of that we were able to spend more time driving rather than completing a full briefing. We had an enjoyable week training and a very good result to finish with. Well done Robert.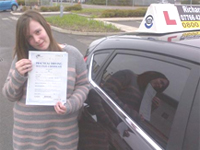 Anne - Peterborough
Passed first time with Richard using the LD System with only 23 hours of tuition.
You were my third instructor and I passed first time using you (technically anyway). You were patient, your car is easy to use, you were on the same page as me throughout progression, which made it easy for me to relearn, just really enjoyed using you and think that people should choose you for that! After having previous instructors you are the only one I will ever recommend. Thank you :)
Anne knew what she wanted from the training. We used the LD Workbook and the end of each lesson we reviewed that lesson and planned for the next. Because of this we progressed well during each lesson and with only 23 hours Anne passed her test. Well done Anne.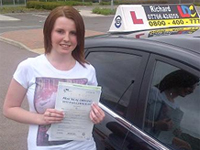 Sophie - Peterborough
Learning to drive with Richard was great, it was a nice calm environment to learn to drive in. Richard was very helpful in helping me prepare for the practical and theory tests right from the start, and was patient and explained me through mistakes I would make during driving.
The lessons were well structured and planned out with what I would be doing on that lesson, which I liked. Thank you for everything and getting me that pass I wanted! :) Many thanks
Sophie is a well organised young lady, she had planned and saved for the driving lessons and following a home visit planned and booked a semi intensive course some 4-6 weeks in advance, giving Sophie time to read through and complete the LD Workbook. Unfortunately Sophie failed her first test as nerves took over. She passed on her second attempt with only a few minors and with commits from the examiner as 'nice steady drive', I'm really pleased. Well done Sophie
Tristan - Wittering
Learning to drive with Richard gave me the skills and confidence I needed to pass my theory and practical driving test first time.
I never felt nervous under his instruction, and I could always have a laugh and a chat with him about most things. He never failed to give advice when it was needed, and always made sure he was offering the best deals on lessons.
I would definitely recommend learning to drive with Richard to anybody, as he keeps you calm and focused at the same time.
So that's brother and sister through their tests first time for them both.
Tristan is a nice confident driving, taking everything that happened during the teaching in his stride. Passing his test was one item on his 'to do list'. So that's one down couple more to go.
Well done Tristan. Safe driving.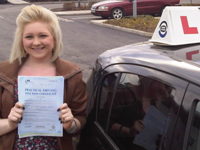 Emma - Wittering
Passed First Time - Having Richard as my driving instructor gave me the confidence and skills to pass both my theory and practical examinations fist time.
In my lessons with Richard I always felt at ease and Richard kept me calm when I felt I would struggle with some aspects of learning to drive. I always had fun and productive lessons. I had both day time and night lessons, I also drove in all types of weather conditions including snow/ice, which I found was a great confidence boost for me as a learner.
Richard always gave clear instructions and when I did something wrong he gave me constructive advice on how to handle the situations if I should meet them again.
Learning to drive with Richard was a great experience as I always had a good laugh with him and I never felt I couldn't approach him if I had any concerns with my driving. I would like to thank Richard for taking his time to teach me, he never lost his cool or interest in teaching me.
He was a great instructor to have and I had so much fun learning.
Emma is a great girl. She was nervous at the beginning, as is a lot of pupils, but we progress at a pace that suited her covering all the elements and skills required, this obviously worked as Emma passed first time.
Well done Emma.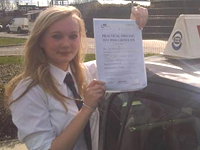 Jessica - Stamford
Passed my test with NO minors!
I would just like to say a massive thank you to Richard for being such a great driving instructor. He was always very calm and friendly, and very easy to get on with.
I would recommend him to anyone who wants to learn to drive, especially if they are nervous, because he is so helpful and calm. Really going to miss our lessons because he is such a good instructor, and great to have a chat with.
Thanks again Richard, we finally got there in the end.
Jessica is a really 'steady' driver, however she got really nervous before her driving tests and unfortunately failed a number of times. Each time only having very few minors, but one serious fault. The successful attempt Jessica's mind set was totally different and this time Jessica passed with no minors.
It was a really good drive and my first perfect test.
I'm really pleased that Jessica stuck with it and the result speaks for itself. Well done.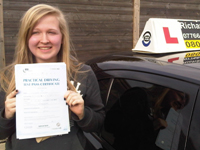 Victoria - Stamford
Passed first time with Richard and LDC - After working myself up for the first time being behind the wheel of a car Richard quickly put me at ease.
Being the calm and patient man that he is, I was able to grasp the skills needed to pass my test first time.
Being provided with the LDC workbook enabled me to read through the manoeuvres and techniques helping me to progress smoothly with the lessons.
Driving with Richard was an absolute pleasure. He especially enjoyed the strange noises I made, it was never a dull lesson!
Thanks for all you help.
Having got her brother through his test first time it was now Victoria's turn.
Victoria was a real pleasure to teach. She took everything on board through each and every lesson. Reading through the LD Workbook obliviously helped in understanding the driving techniques and methods we used covering the traffic skills and manoeuvres. Victoria had set her own standards so high and was disappointed if the slightest thing wasn't just right. After explaining that this is a learning process and mistakes are a part of that process Victoria settled down.
Once Victoria had all the skills required we then worked on the little elements that greatly improves the overall driving skills, more than just getting her through the driving test.
Victoria passed her test first time with only three minors, which is really good considering how nervous she was. Well done.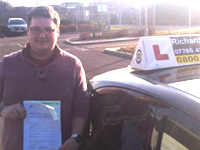 Andrew - Peterborough
After a six year break in learning, Richard built my confidence back up on the road and got me to the finish line. Thanks!!
Andrew was really surprise how making such a small 'mistake' can fail your test. We stuck with it and he got through after the third attempt.
Andrew wasn't a new driver when he came to me, he had taken lessons six years ago. He persevered this time and passed his driving test at the third attempt having only taken approximately 20 hours of tuition. Andrew was very keen to take his test before he started his new job in London, so the pressure was on and that was too much. So he came back from London to re take the test and with his 'mind set' altered, passed. Well done.
Samantha - Peterborough/Inverness
Richard took me for lessons starting from the very first time I'd sat behind the driving wheel. He conducts very practical lessons, ensuring that as much time as possible is spent actively driving, rather than sat speaking through principles.
He also took on board exactly what I said in regards to what I felt were my own weaknesses and changed lesson plans to counteract any issues.
Having taken my theory whilst under Richards tution I also noticed that an awful lot of the knowledge required for the theory had been covered by Richard during our practical lessons too - which saved me having to learn lots more for the test.
All in all, a brilliant instructor who works closely with each student individually, working to their pace and needs. Highly recommended!
I only taught Sam for 15 hours before she moved to Inverness. Sam read through the LD workbook before each lesson which meant we could get straight on with the the lesson rather than going through a full brief, which meant Sam spent more time driving.
When Sam moved, she continued with another LDC Instructor in that region. This kept continuity in the teaching methods. And it must of worked as she passed first time.
Well done Samantha.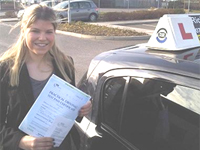 Lucy - Peterborough
Having failed several tests in the past, I booked a five day intensive course with Richard thinking I was all but guaranteed a pass at the end of it. Unfortunately nerves got the better of me again and it took a few more attempts, but it was with Richard's continued support and dedication that I gained the confidence to be able to finally pass.
And with only 4 minors!
Lucy was a pleasure to teach. But as Lucy said, nerves got to her and she made one mistake that failed her test. Each time the number of minors were really low, which shows that she is a competent driver.
I'm really pleased that you suck with it and made it through. Well done.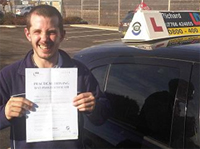 Bryn - Great Casterton
Just want to say thanks again for all the help learning to drive, was an absolute pleasure. For those thinking of learning with Richard, I found him to be an exceptional instructor, a very patient and knowledgeable man who explained everything brilliantly and made me feel comfortable and at ease though-out all my lessons.
I found the LDC course, books etc. to be spot on. Telling me everything I needed to know to safely drive a car.
I wouldn't hesitate to recommend Richard and LDC to anyone thinking of learning.
10/10.
Bryn opted for 2 hour weekly lessons which suited his requirements. We struggled on one element of driving, but after altering the teaching method, we got over the hurdle and Bryn is now a great driver.
Bryn is also going to do the Pass Plus course to gain further experience of Motorway driving.
No more cold mornings on your bike!
Well done Bryn. Safe driving.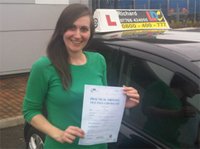 Chloe - Peterborough
30 Hour One Week Intensive Course.
A massive thank you to Richard for getting me through the intensive one week pass course and passing first time! I was so nervous and really didn't think that I was going to do it but Richard is an excellent instructor, really calm, patient and just puts you at ease. I would definitely recommend him to anyone looking to learn to drive.
Thanks again :D
Chloe wanted to complete the course over one, so after an initial drive we then structured the course to suit both our requirements. Before we started Chloe had completed the Workbook and watch the DVD's that were included within the course. These certainly helped with the speed and progression of each lesson.
Chloe did really well, passing first time and we are doing the Pass Plus Course for Chloe to gain valuable experience of Motorways.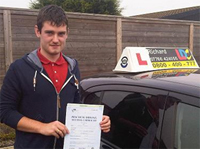 Robert - Ramsey
Passed 1st time with Richard using the LDC system. GREAT!
I opted for the 20 hour Midway Pass Course. The workbook and DVD's really helped and when I had any other questions Richard was there for me. Richard was very good, giving clear instructions and explanations of what we could encounter. Giving me the confidence to deal with anything that the roads can throw at me. Thanks Richard
Because Robert had completed the workbook and watch the DVD's before we started we had a good head start and along with Robert understanding what was required for each part of the workbook, these then helped us get through to above test standard within the Twenty hours. Well done Robert.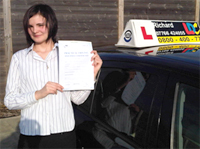 Samantha - Peterborough
Learning to drive with Richard was great, he was very calm and patient with me. I would recommend him to anyone who would like to learn to drive. The LDC Workbook that I had and the in car presenter were a massive help as well, they really explained in easy to follow stages the things you need to know when learning and the correct way to do things.
Richard was not only a good teacher but he was great to talk to and have a laugh with.
Thank you for helping me pass my test. :d
Samantha had done a lot of research before selecting LDC as the company and me as an instructor to get her through the driving test. Samantha's opening email started with 'I have read though what people have said about you and I think that you would be a good instructor for me.' And it worked.
Well done Sam. Safe driving as I'm sure you will.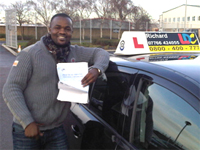 Peter - Peterborough
Richard and I worked hard at correcting the bad habits I'd gained from 10 years of driving abroad.
Results - 1st time passes on both theory and practical tests.
Peter could drive but he needed a UK driving licence. With 10 years of driving abroad Peter had picked up some bad habits that we needed to resolve before he would be able to pass the UK driving test. We had 12 hours of tuition to improve his driving standard and he passed the test first time. This meant so much to him as he compared it to 'getting a get out of jail free card'. He is no longer relying on public transport or friends for getting him and his young family around.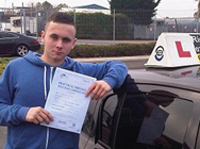 Josh - Orton
Richard is a very helpful instructor, he gave me the skills I needed for passing my test and for the future. He was very friendly and nice to talk to. I would recommend anyone who wants the best possible chance to pass their test to contact Richard because he his very good at what he does.
Cheers for everything Richard, you have helped me a lot. Thanks Josh.
Josh came to me on a recommendation from a work colleague. He was keen to learn to drive, however as Josh is a talented football player, so we had work around his football commitments and because of that his lessons were irregular. Josh has been learning to drive for a year, but only has taken 32 hours of tuition to pass his test. I respect Josh for putting his efforts into, and sticking with, learning to drive when he had so many other demands on his time.
Well done Josh.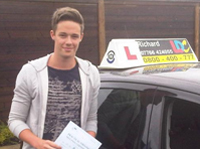 Tom - Peterborough
I would recommend Richard to anyone who is looking to pass his or her test driving test, with a calm and friendly instructor, who is always reliable and very professional and is quick to assure you of anything you are uncertain about. Thanks again for all your help.
Tom passed his test at the second attempt after a total of 26 hours of tuition. Tom should have passed at his first attempt, but unfortunately things sometimes don't happen, as they should. Tom is a nice good steady driver. Tom has also benefited further by completing the Pass Plus training scheme.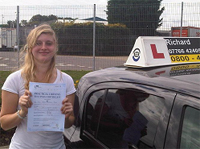 Sarah - Wittering
Learning to drive with Richard made the whole process of learning to drive a lot less daunting. I was eased into it with a sort of starter lesson so that I had a feel for the car before taking it on the road and the whole experience remained comfortable until the day that I passed. Even when I made mistakes Richard was calm and helped me to correct them without making me stress about them. Whilst making sure I was aware of my mistakes he would always give praise every time I did something right, helping to boost my confidence and get the LDC process well and truly ingrained into my head. I still follow this process on the road now and I feel it has made me a safe and careful driver. I already have, and will continue to recommend him to anyone wishing to learn to drive. Thanks for everything :)
Sarah passed the driving test first time with only three minors. She was a joy to teach. Sarah set her self a really high standard to achieve during each lesson and spent time reading through the LDC Workbook throughout the time while learning to drive, which obviously helped, as Sarah achieved her goal at the first attempt. Well done Sarah.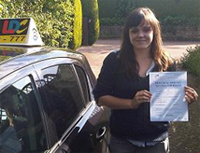 Eleanor - Oundle
Richard is a brilliant teacher and is always very friendly. Whenever I wasn't quite sure about anything he would always take time to make sure I understood. I definitely recommend him and will always be very grateful to him for helping me pass my test.
I'm really pleased that I helped Eleanor pass her test and give her freedom from the buses to and from school to Peterborough, which from Oundle is a long journey.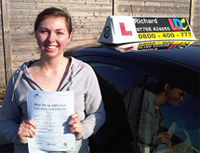 Charlie - Peterborough
I found learning to drive with Richard was great! He calmed my nerves, made me feel at ease and gave the confidence not to be scared about driving. Richard gave the support that I needed and made me feel relaxed at all times. He also explained things to me fully, and went over things when I didn't understand.
I would highly recommend him - he rings great results to his students! I am very thankful to him. I love my new found freedom.
Charlotte 'Charlie' was a joy to teach. She listened and understood what was required for each lesson and carried out the tasks well, although being a little nervous to start with. I believe that reading through the LDC Workbook helped Charlie understand what we were going to do for the next lesson so we spent more time driving and less time doing the briefing for that lesson.
Charlie managed to pass her test with only three minors with a nice competent 'test' drive.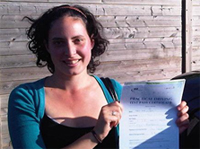 Ana - Bourne
When I was originally looking for a driving instructor I really wasn't sure where to look. Thankfully the Google search led me to Richard as I don't think I would have found anyone better to teach me to drive. He is very clear in the way that he teaches and was brilliant at putting me at ease behind the wheel. I would recommend him to anyone learning to drive and have already had people request his number! Thanks Richard for freeing me from a painful commute to work! Ana :D
Ana was a real pleasure to teach, I enjoyed each and every lesson. Ana had to rely on a work colleague for a lift to and from work in Peterborough. Now she has her own independence. Ana used the LDC Workbook to understand the manoeuvres so she was well prepared for those lessons.
Ana failed the first test through nerves, as do so many, but only after a further 2 hours of tuition the day before her second attempt, Ana passed her test with only 1 minor. Ana only received a total of 26 hours of tuition.
Well done Ana.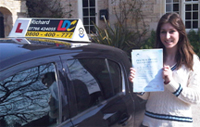 Holly - Empingham
I would recommend Richard to anyone learning to drive who wants a helpful, consistent and friendly instructor. He was always available to answer questions and the lessons were very well tailored to my ability. I passed first time, and I'm sure this was all due to his teaching.
Holly was a real pleasure to teach. She followed instructions and understood what was required to be a good competent driving.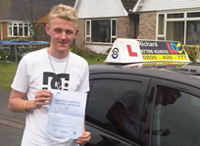 Dominic - Stilton
Learning with Richard was a great pleasure for me. He has a very calm approach to teaching, which makes you feel relaxed and comfortable. He'll go through things you're not sure about until you understand them clearly. I was very pleased with the support he gave me. I will definitely recommend him to my friends. Thank you!
Unfortunately Dominic failed the first time due to nerves as we had two examiners in the car during his test. He passed the second time comfortably. As soon as we could we completed the Pass Plus Scheme. Dominic is a very safe steady and considerate driver. Many thanks for the chocolate, nice surprise. Well done Dominic.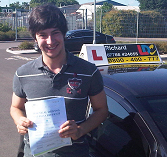 Mario - Werrington
Richard's teaching methods worked well for me. I really enjoyed the lessons that he put together covering all aspects giving me the confidence to drive.
Mario came to me after wanting to start driving again after a break for two years traveling around Europe. We only had 15 hours of tuition and Mario passed first time. He can now drive to and from Weymouth rather having to use the train. A lot cheaper and more convenient. Well done.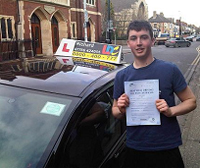 James - Wittering
James received only 28 hours of professional tuition with no additional practice. James passed first time with only 2 minors. Now James can drive the company vehicles and has now opened up new opportunities within his current career.
James was a great pupil as he listened to every instruction, understanding 'what and why' it needed to be done that way. If he didn't understand something we would talk it through until James was happy with it. He also read through the workbook we used which really helped him.
Geoff - Elton
Thank you for giving Geoff the knowledge and confidence to pass his test. If anyone ever asks me if I know a good driving instructor, my answer is most definitely yes!! Huge thanks, Sonia
Geoff was particularly nervous for his first attempt and unfortunately failed first time. We rebooked straight away and gave Geoff only a few additional hours of driving experience until his test. As he now knew what to expect he passed his next attempt with only 3 minors.
Tom - Stamford
A very big thank you for getting Tom through his Test. Just trying to sort out insurance for him now. Big Thanks, Safe Driving. Julie Hanks
Tom needed to pass his test as he had been accepted for a summer placement to teach skiing in America. The only thing was, he had to be able to drive. No pressure then!
Samantha - Whittlesey
'Learning with Richard was an absolute pleasure. He explained everything in a calm and relaxed manner, and was very patient when I didn't understand. He made me feel very confident and at ease whilst behind the wheel, allowing me to drive safely and efficiently. I passed first time with Richard, and would recommend him to you. Thank you for an easy and enjoyable learning experience.'
Samantha another pupil who benefited from the LDC Workbook and DVD's. She passed her test first time with only 4 minors.
John - Whittlesey
I taught both John and Samantha over the same period of time. Both benefited from the LD System of teaching.
Unfortunately John failed his test first time through his nerves, but he pass second with 1 less minor than his sister, which he was very happy very with. Good old sibling rivalry!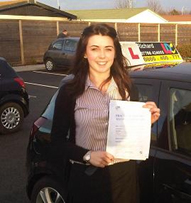 Anna - Peterborough
I would recommend Richard to anyone looking for a friendly, consistent, professional and affordable instructor! Anna only had 25 hours of professional tuition for her to achieve her goal to be the first in her year group to pass the driving test.
Anna also went out with her granddad for more driving experience. It certainly helped as Anna passed first time.
Alex - Stamford
'Once Richard had explain things, driving became easier to understand. The use of the LDC Workbook and DVD's also helped. I would recommend Richard to anyone. My sister can't wait to be taught by him. Couldn't have done it without you. Many thanks.'
Alex joined me after he'd had been taught by another instructor but his parents didn't think he was ready for his test which was in two weeks.
After an assessment drive, we put a plan together working on the areas required. Once I had explained to Alex why we do things the way we do, his driving improved greatly ready for his test, which he passed first time with 3 minors.
Call today on 07766 424055 or Email me to find out more
If you have any questions or to book lessons today, feel free to contact me